We may earn money or products from the companies mentioned in this post.
It's a wonderful time of year but, with the lights and gifts come colds 🙁 Contrary to popular belief, we don't get colds more often in the winter because of cold weather. We get them more often because we are all inside usually in close quarters to people, there for spreading viruses easier. Luckily, there are ways to help our bodies fight these viruses off!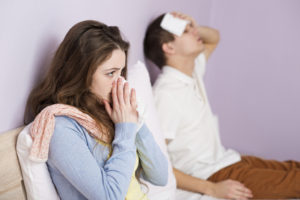 You have probably heard of Probiotics and Prebiotics but, do you know why they are so important for your health? First:
What is a Probiotic?
Probiotics are bacteria that line your digestive tract and make it easier for your body to absorb nutrients and fight infection. A whopping eighty percent of our immune system is in our digestive tract. To be healthy overall, such a big part of your body needs to be healthy.
The benefits of Probiotics
Boosts immune system
preventing and treating Urinary Tract Infections
Improves digest system
heals inflammatory bowel conditions like Irritable Bowel System
Helps manage and prevent eczema in children
Helps fight food-borne illnesses
and there are tons more benefits researchers are gathering data for!
What is a Prebiotic?
Prebiotics are a type of non-digestible fiber compound. Prebiotic compounds go through the upper part of the gastrointestinal tract and stay there undigested, since our bodies can't fully break them down. After they go through the small intestine, they reach the colon, where they're fermented by the stomach's microflora. The un-digestible fiber become fuel for the beneficial bacteria that live in your stomach.
Benefits of Prebiotics 
Improves gut health
Better digestion
Healthier cholesterol levels
Decreases risk for cardiovascular disease
Helps reduce stress response
Better hormonal balance
Improves immune function
Lowers risk of obesity and weight gain
Reduces inflammation and autoimmune reactions
In conclusion, Probiotics are very necessary for gut health and your overall well-being and prebiotics are what feed the probiotics. This makes the two very important and can prevent you from catching those nasty colds!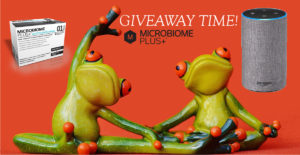 Microbiome Plus is a great place to get your Probiotics and Prebiotics! They have a sale going on now on all their products and a chance to win an Amazon Echo and one month supply of Probiotics!