We may earn money or products from the companies mentioned in this post.
Decorating your baby nursery is one of the most exciting things to prepare for your little ones arrival. Here is a look at my baby boys nursery and a list of everything you will need to be prepared for your baby.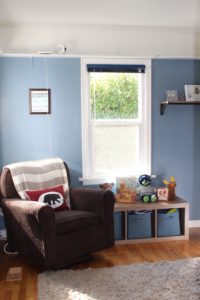 A Crib. My sweet in laws got us this wonderful Delta Children Abby Convertible Crib "N" Changer in dark chocolate. This crib has been fantastic! It's nice and sturdy, looks great and the changing table and storage are so convenient! It will really grow with your baby! It has three crib height adjustments and I love that it converts to a toddler bed, daybed and full size bed!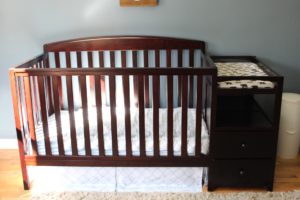 Don't forget a crib mattress. We have a really comfy Serta crib and toddler mattress. It has a waterproof vinyl cover that resists moisture and stains.
A changing pad cover. Here is our cute bear one.
Crib bedding. We have this one and this really cute deer one.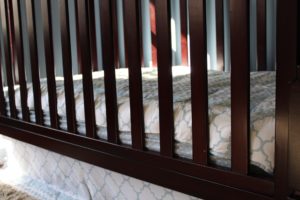 Decorative signs. No baby nursery is complete without cute signs on the walls 🙂 Here are some similar ones: You Are So Loved, I Love You More Than I Can Bear, wooden initial.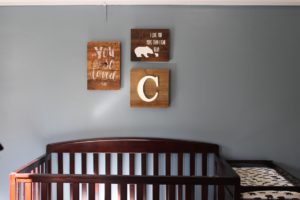 Diaper pail. Our Diaper Genie has really come in handy. Its odor lock technology is amazing! While changing a stinky diaper you just toss it in, close the lid and voila the smell is gone!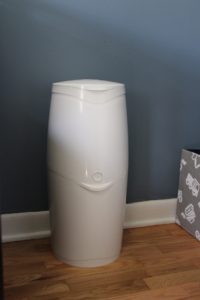 You might also like: My Birth Story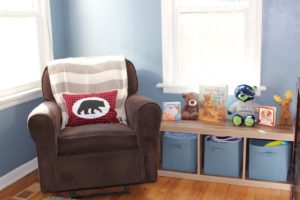 A comfy rocking chair or glider is a must. I have sat in this chair probably more than I have sat on our living room couch since having my son. It's so important to be comfortable when you are feeding your baby or rocking them to sleep. You will get stuck in your chair A LOT. Here is a similar chair to ours. This glider comes in lots of cute colors 🙂
Cute striped blanket.
Similar bear pillow and red checkered pillow.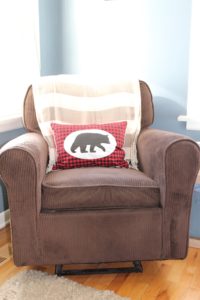 Storage. Babies need a lot of stuff so you will need a lot of storage for everything. I love our three cube room organizer with fabric storage containers. They are perfect for storing blankets and extra baby supplies.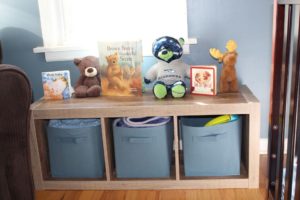 I love displaying our son's adorable books (You Are Special, Brown Bear's Wonderful Secret, Sleep Baby) and stuffed animals (bear and moose) on top.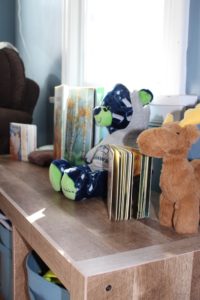 Noise machine. Our son sleeps fantastic with his ocean noise playing. He knows its time to sleep whenever we turn it on and it helps keep him asleep by drowning out other noises. This one is great because we can put batteries in it and take it with us camping or anywhere we go!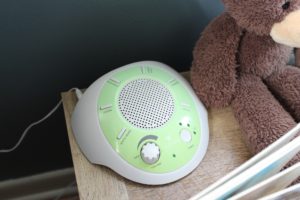 A baby monitor. You can't beat being able to see your baby without having to go in there and risk waking them up. I love our iBaby monitor. I just downloaded the iBaby app on my phone and can check in on our son anytime. I can see him perfectly even in the dark and I can talk through it if needed. This monitor works for android phones too 🙂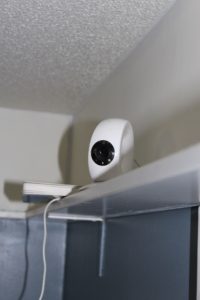 A shelf to display more baby things. Here is a very similar one. The cute little lantern. I love our baby handprint and footprint picture frame. Deer figurine and a similar Dream Big Little One sign.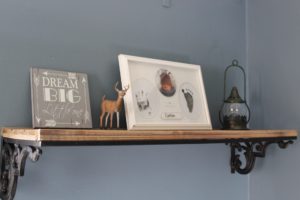 A dresser. More storage of course. We keep almost all our son's clothes in his dresser. I found this one at a thrift store but here is one like it. We keep some of his toys in the wicker box.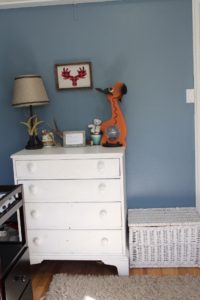 A lamp. There is something so cozy about a lamp and its perfect for seeing to change your babies diaper in the night without blinding you both. Here is a similar antler lamp.
Piggy bank. One day our son will be really glad we put our change in his piggy bank and right now he loves to watch us drop the coins in it. His piggy bank was a Christmas gift but here is a really cute moose one. Here are similar red checkered antler pictures.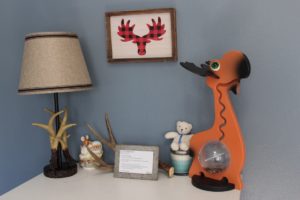 Last but not least, you will want a comfy rug in your nursery. You don't want your baby on hard floor especially, when they start learning to crawl and walk. I also like getting down and playing with my son a lot more on a soft rug.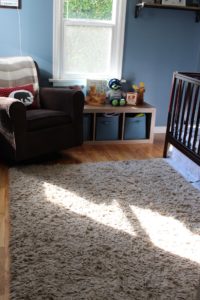 I hope this list will help you get your nursery prepared or maybe you saw something you need to add to your baby's nursery 🙂 Let me know in the comments if I forgot anything!