We may earn money or products from the companies mentioned in this post.
When I saw my name under Jessica's nominees over at Exceptionally-Ordinary I was soooo happy! I couldn't stop smiling! When I started this blogging journey, I would have never guessed my blog would even be mentioned in the same sentence as award! I feel so honored! Thank you very much Jessica!
I connected with Jess on a Facebook group board for blogging moms and I am so glad I did! After exploring her blog, I came to love her "everyday is a gift" attitude and her tips and tricks for staying on a budget! I love connecting with other bloggers.
Questions Jess asked me:
If you could live anywhere in the world, where would you live and why? I think I would live in Hawaii. I love the warm water, sunshine and sand.
What do you like the least about your life? I don't like when my husband or son are unhappy.
How does your "dream" of blogging compare to the "reality" of it? Blogging is a lot more work than I thought it would be. A lot of hours spent on the computer.
What do you enjoy the most about your business? I enjoy getting to write about whatever I want.
What would you say is the biggest challenge you have faced as a small business owner, and blogger? Time management. I don't like ignoring my son being on the computer for hours.
Harry Potter, or Twilight? Harry Potter!
If you could change one thing about your past, what would it be? (Be completely honest) I'm a strong believer in everything happens for a reason, so I wouldn't change a thing.
Which is your favorite book, and why? *Hint: Does not have to be business related! My favorite book is The Host by Stephanie Meyers. It makes you look at souls and bodies in a whole new way.
What is your best childhood memory, and why? Some of my best memories are going to horse shows with my mom and sisters. We always had so much fun and I learned a lot!
What is your utmost guilty pleasure? (Mine are books, and crafts 😀 ) I love to eat ice cream. Lots and lots of ice cream!
Who let the dogs out? Who Who.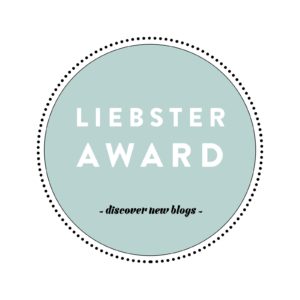 The 2017 Liebster Award's saying is "Discover New Blogs!" and I want to do just that! Supporting other small blogs makes me feel so good because I know how happy it makes me to receive support 🙂
With that being said, I want to nominate
Adesanya at Godfidencefabgirls.com
Anne at Thenewmamanurse.com
Madeline at Healingbyeducating.com
Nikki at Blushingmacaron.com
Louise at Louisehudson.net
Lindsey at Thelampandthelamb.com
Nominees please go here for the official rules and guidelines
Here are my questions for my nominees:
What made you start a blog?
Where do you usually write your posts?
How do you come up with post ideas?
How long does it usually take you to hit publish on a post?
What do you look for on other blogs that make you want to subscribe to them?
What do you notice first about a blog?
As a blogger do you think pop ups on blogs are annoying?
What is your favorite social media?
Do you take your own pictures for your blog?
How did you earn your first dollar blogging?
Which one of my posts is your favorite?
When asked what blog is my favorite blog, I of course chose my sisters blog Joyful Messes. Katie is always ahead of the blogging world! She knows the next trend before it even happens. I aspire for my blog to be as beautiful and informative as hers one day. She gives the best motherly advice (especially for boys since she has three) and her pictures are always gorgeous! Plus, you can find excellent blogging tips, fitness tips and delicious recipes! I highly recommend checking out Joyful Messes and learning how to find joy in lifes messy moments!
Ten random facts about me:
My favorite food is ice cream.
I have only ever lived in Washington State.
I never swear.
I am afraid of the dark.
I love all animals.
My favorite sports are soccer and horseback riding.
I am the youngest of three girls.
I am a perfectionist.
I enjoy flipping furniture.
I like going on runs.
The Liebster Award started in 2011 and is given out to a small blog every year by other bloggers. It is so important for bloggers to help each other out! So lets continue to help spread the word about new blogs and Share Share Share! We were all new once 🙂